[fusion_builder_container hundred_percent="yes" overflow="visible"][fusion_builder_row][fusion_builder_column type="1_1" background_position="left top" background_color="" border_size="" border_color="" border_style="solid" spacing="yes" background_image="" background_repeat="no-repeat" padding="" margin_top="0px" margin_bottom="0px" class="" id="" animation_type="" animation_speed="0.3" animation_direction="left" hide_on_mobile="no" center_content="no" min_height="none"]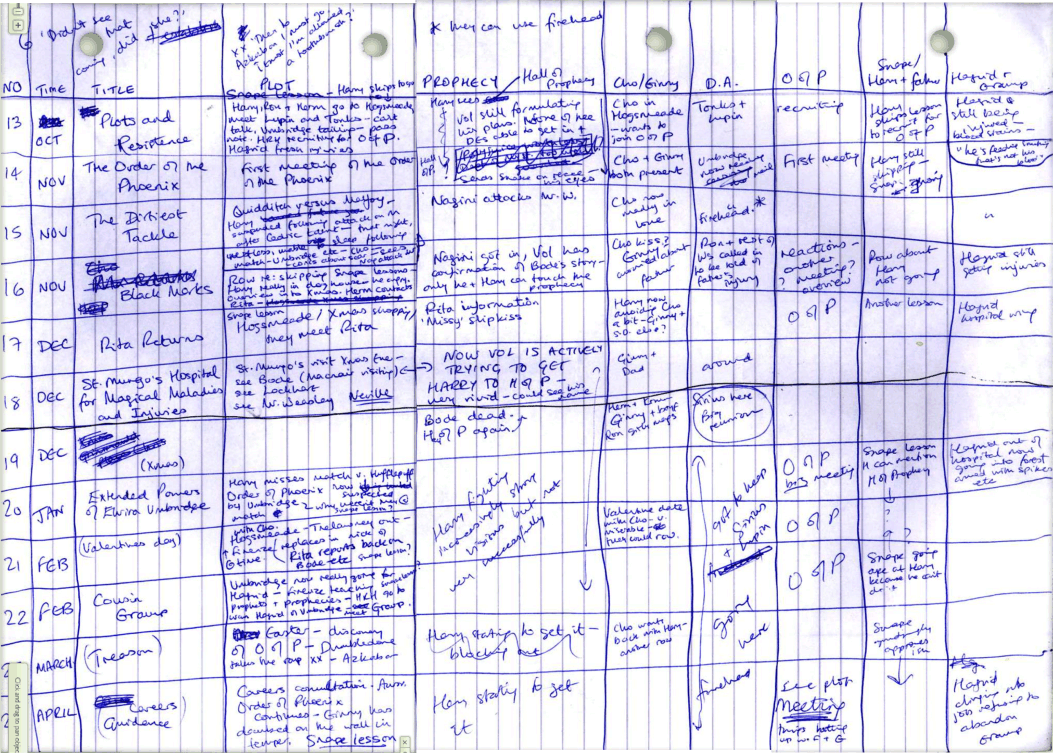 Coming from the world of screenwriting I had a bad habit to kick: over-outlining. A detailed treatment and outline are paramount when getting a project green-lit because most people do not have the patience to read an entire 120-page script. Producers want an overview, a checklist, where they can see if the main character fulfills the arc of the hero's journey or all three acts are structured just so for the given genre. They want to know it's going to "work" before any work has actually been done. While I agree structure is incredible important for writing novels as well, it has been more beneficial for me to plan the major elements and discover the story for myself as I write. If I'm just writing to connect the dots, that feels like work.
"There are some writers who are architects, and they plan everything, they blueprint everything, and they know before they drive the first nail into the first board what the house is going to look like and where all the closets are going to be, where the plumbing is going to run, and everything is figured out on the blueprints before they actually begin any work whatsoever. And then there are gardeners who dig a little hole and drop a seed in and water it with their blood and see what comes up, and sort of shape it. They sort of know what seed they've planted — whether it's an oak or an elm, or a horror story or a science fiction story, but they don't how big it's going to be, or what shape it's going to take. I am much more a gardener than an architect." - George R.R. Martin, author of A Song of Ice and Fire
I wrote the first draft of my new novel, Penwell, using an incredibly detailed and plotted outline which kept me focused to finish, but when reading it through afterwards the story was lacking something. All the standardized, agreed upon, plot points, character arcs, and scene structure were as they "should" be... so what was the problem? I soon realized that sometimes you just can't predict how a character should feel, how a scene should end, or what someone would actually say until you're right there in the trenches with them. When outlining, you're too far away to see it. This can lead to stories feeling predictable or flat since there is little to no room for spontaneity beneath they layers of bullet pointed outlines.
"I always treat it like an archaeological dig: Stories are already out there, and you just uncover them. You don't have a say when you find a bone and which bones you're going to find. You may have to face the music somewhere along the line that you dug up a different dinosaur than you thought, and are you going to have the intestinal fortitude to admit that instead of forcing it to be what you thought it was." - Andrew Stanton, director of "Finding Nemo"
Upon writing my second draft, I decided to take a step back. Instead of chronicling each scene in extreme detail first, I created loose flashcards of the most important story and character moments that I wanted to hit. These were just road-markers; how I actually got there was up to me. More often than not I ended up following the characters on all kinds of unexpected twists and turns that were far more interesting than anything I had planned. Since the scenes were fresh and exciting to me as I wrote them, I knew they would feel fresh and exciting to the reader as well. This was only possible because I left myself open to the possibility of discovery.
While I will always create some form of outline for the projects that I write, I've learned to unlearn, relax, and let the characters guide me through the story so I'm discovering along with them just what happens next.[/fusion_builder_column][/fusion_builder_row][/fusion_builder_container]